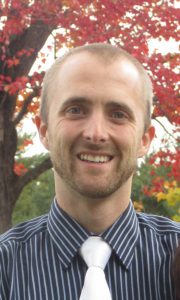 Pastor Brian came to Lake City in January 2014.  He has been married to his best friend Katie since 2010 and they have three daughters, two sons (one at the throne of Jesus), and a baby on the way!  Pastor Brian enjoys spending time with his family outdoors, reading, road trips with the family, and playing on a homemade ninja course.
He has a passion for expository preaching (verse by verse) and for encouraging and challenging others in their walk with our Lord.  Because of his passion to help believers grow and mature in the faith (Col. 4:12; 2 Peter 3:18) he is hoping to work toward biblical counseling certification through ACBC (Association of Certified Biblical Counselors).
Fun Fact:
Pastor Brian enjoys playing most any sport.  At one point the trunk of his car was filled with items for some sport or activity (golf, frisbee, football, basketball, disc golf, rollerblading, tennis, racquetball, softball, hockey, and probably others).
Random Question: What was your first job?
I worked at a local golf course as a busboy.  I was so excited about the free golf that they wouldn't have had to pay me, but of course they still did!