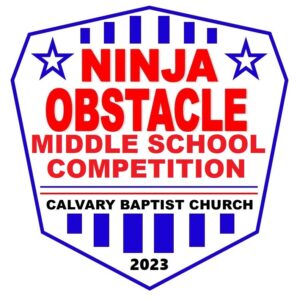 We are excited to bring a new opportunity to middle school students on Saturday September 16th! Ninja Obstacle MS Competition will involve some training on 10+ obstacles as well as a competition. Like Ninja Obstacle Training, there will be 10+ obstacles that students will train and race on. Unlike Ninja Obstacle Training, this event has middle school students in mind, particularly their height. Taller obstacles, new obstacles, and a competition format to enjoy.
There is a limited number of spots (20 boys & 15 girls) in order to stay close to the time frame, and early registration is required. While we are excited about the challenges this course will bring, we are more excited about challenging these students from God's word. All participants will run the course to try to earn a spot in the finals, where an extended course will be run by those finalist to see who wins.  Use password "Ninja2023" to view and register for this event below!
We believe God's word, "Rather train yourselves for godliness. For while bodily training is of some value, godliness is of value in every way, as it holds promise for the present life and also for the life to come" (1 Timothy 4:7b-8).  We want students to know and love Jesus Christ, and to grow in godliness.  Godliness is living a life completely devoted to God.